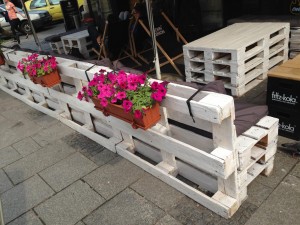 Deutsch

First, we had some holiday somwhere around Katowice, Poland, and well, they make use of pallets for furniture stuff there, too. Second, some people here at home at "Utopiastadt" do some nice and creative stuff, and i'd love to join in, but there's also still some stuff to do here. But nevertheless, some third-hand-inspirations.
One of the beautiful, flower-decorated polish pallet benches and – simply made – tables that we came about there. I was reminded on the pallet benches in Bochum, while these were slightly more handsome, I must admit, although I am completely for the "Ruhrpott" otherwise.
I have to admit, i like the flower pot decorations. Though i'm not really the "flowery" type. NEvertheless, when you see it here, it becomes an obvious, if not obligatory add on.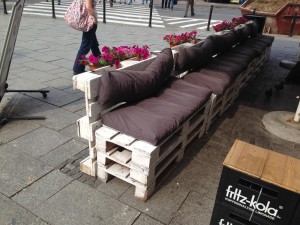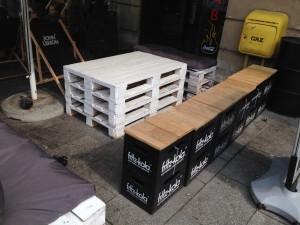 What amused me in Poland: very pretty pallet stacks with innovatively cutted vegetable display. Somehow a bit "pallet stack overkill", but it looked pretty and since then, I keep thinking on this slanted half pallet and how it could be used in other constructions.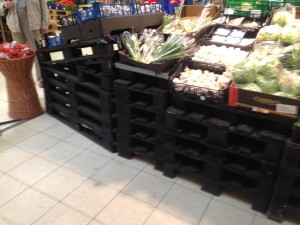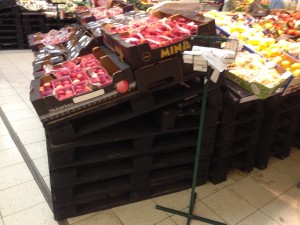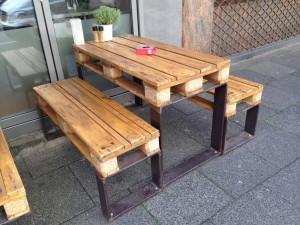 Thats all from there. Back in Wuppertal we visited – thanks to some guests we had then – some corners where we wouldn't have been otherwise. In downtown we saw a most charmingly – albeit using heavy metalwork – manufactured pallet beer table.
As a part of this tour we were also in the "sculpture park". I can highly recommend it, in case that you visit Wuppertal or the area here and are interested modern art. I do not know if this one is still running, but the following two pallets were the basis of two sculptures of Erwin Wurm's "Am i still a house?" – exhibition, and these sculptures touched a few things in me, but here, I'd tell only about pallet related stuff: once beautifully "beveled" pallet planes and a very exciting color. Nothing to see of the art works here – have a look for yourselves there 😉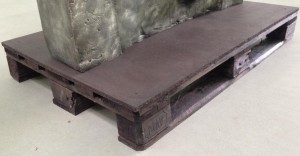 Then finally, Utopiastadt. They were already awesome last year, and their use pf pallets has improved further. They expanded some "pallet chillout areas" on both sides of the bike lane connecting the city districts of wuppertal, and these do permute happily as needed by their occupants.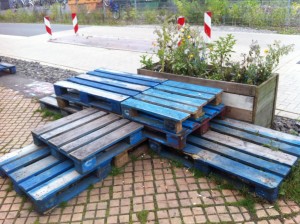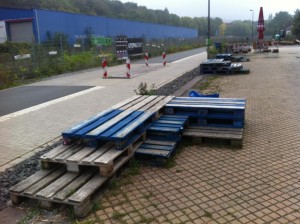 The "Hatter" is the bar providing drinks and culture and is incidentally the only gastronomy beyond various hacker camps and -congresse where I encountered Flora Mate, the best ever Mate variant crossed my palate.
Utopiastadt also provides a bicycle repair station, and an appropriate addon are the bicycle stands they had /temporariliy – there. Somehow an obvious variant of pallet usage, obce you see it. I'd only park the bicycles turned by 90°.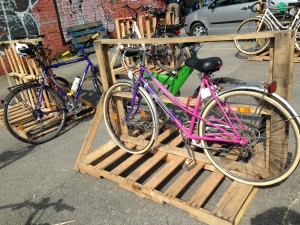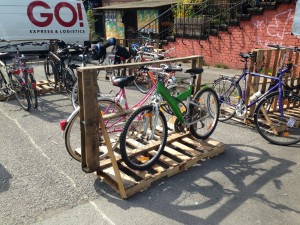 What was really exciting: a combination of planter and brightly colored pallet chair. That one is some really massive stuff, seemingly varnished with a white foundation and later coloured with probably weatherproof varnish. I'm excited and do also want pallet furniture with extendable footrests.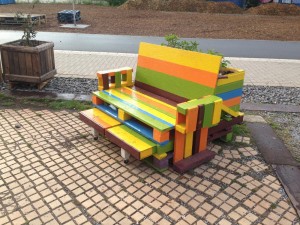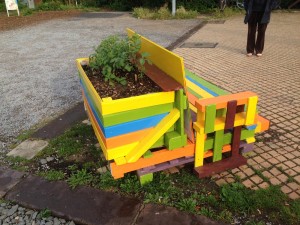 I think its cool. I stopped painting my stuff some time ago now, but if I would paint them again, i guess something colourful like that would be definitely considered.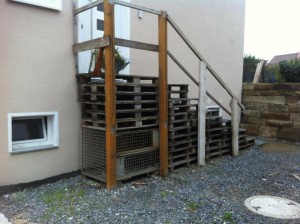 Well, and to the whole playful/pretty/rustic stuff, an example of swabian pragmatism. A find that I had to photograph during my last visit in Kirchheim which i had not posted since. I'm still undecided whether this counts as said swabian pragmatism, some "most important: we get into our house"-thing or simply an endearing oddity, probably partly all of that. I am happily amused and will not stand stupid remarks, to quote the master.