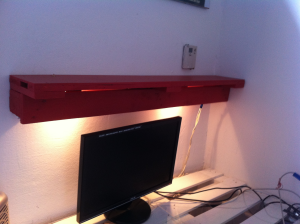 Deutsch

The following was a spontaneous "I have spare material" thing. Some pallet parts were leftovers from other projects, so whats to do with them? I consider shelves to be less "pallet possible" – a quite heavy material for more "light" furniture, too much effort for a simple piece as a bookboard. But then again, there are the leftovers and one can create a shelf beyond the "I need something to put stuff on" thing – especially regarding illuminating backlights. So why not create a small backlit wall shelf above the desk made of pallets, creating shelf space as well as a pleasant indirect desk light alongside.
Raw material: a pallet side part, a piece of laminate and a few low-voltage halogen lamps leftover from a different project. The idea: shelf space on the pallet surface, covered with the laminate board, underneath the shelf some lights, and to the front the former lower board of the pallet side part to cover the lights. Then simply drill two wall hooks for hanging cabinets into the wall, drill two holes in the bottom side of the upper pallet board and hang everything into place.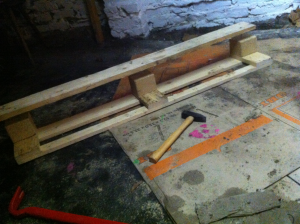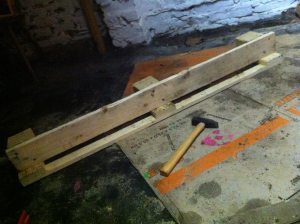 First step: crowbar action! Pull the bottom board loose, keep the spacers on the top board. Then nail the loosened board directly back to the front of the spacers.
Afterwards (or after loosening the bottom board) have the grinding/cleaning interlude. afterwards mount the laminate board. You can use what you want, it should just prevent stuff to fall through the gap of the top boards. I took the laminate just because it was there, and the thought behind all this pallet furniture stuff is partly indeed just to use whats just lying around anyway.
Sorry, only a few pictures of the whole shelf building process this time, but its really easy to trivial.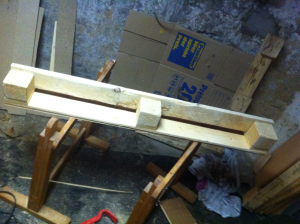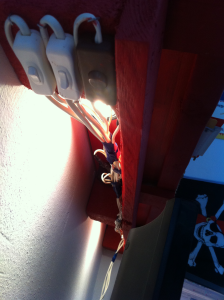 The three halogen lights had a single power adapter, but i made them individually switcheable with some spare switches. Those were attached behind the front panel, so they stay mostly invisible, but easily reacheable. The cables were fixed afterwards via staplegun. I thought about coloured covers, but the light becomes already warm and sliughtly colourful for the backside of the front panel is also painted red. To cover halogen lamps is always a bit tricky because of the heat, so i'm quite happy that there's no need for it.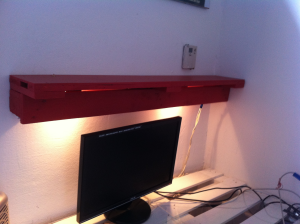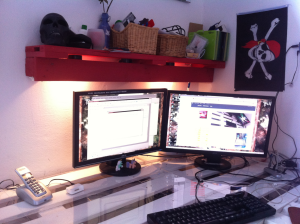 Then as planned: drill dowels and wall cabinet hooks into the wall and have the shelf mounted. That's it. Quickly made alongside while working on the second triangular pallet desk (howto follows), otherwise the small creation is hardly worth the effort. i had a quite untity desk lately, just the famous "a little too much stuff" so even quite little additional storage space did the job, and on top i have nice indirect backlight, which i really enjoy.