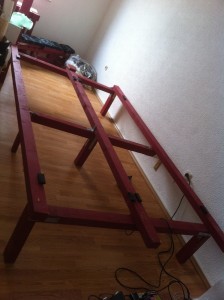 Deutsch

I moved to a new flat, and therefore had to dissect some furniture. Transportation went fine, and afterwards, why not restructure some of the pallet furniture? This was mandatory for the pallet sofa which didn't fit in its old L-Form, but with the double bed, i changed some details which i now really like.
In the former version, the mattress was positioned quite "on top" of the bed, now i have it moved downwards. Mattress surface and the surrounding storage area are not exactly justified now, but much closer.
Like before, the substructure is made of single timber beams – three beams across, three beams along with drilled holes for the slat holdings. When mounting the pallet elements, check the correct distance to have
a) enough (but not too much) space for the mattress and
b) the correct distance for the spalts, which otherwise may slip out of their fittings. Easiest method: attach one of them on all four corners/both ends of the frame.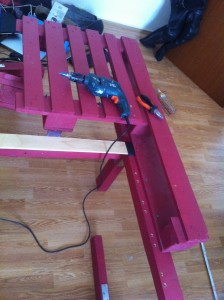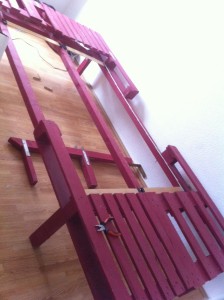 Afterwards, attach the pallet elements. Sometimes I could just screw them onto the base structure, sometimes i had to use some metal angle, when the top pallet boards prevented to drill straight down through the bottom boards into the wooden beams of the base structure.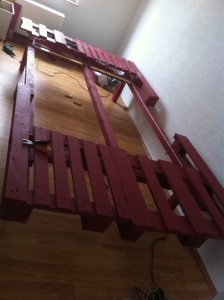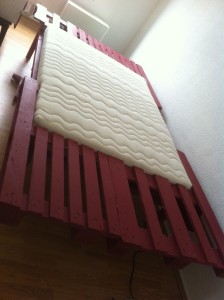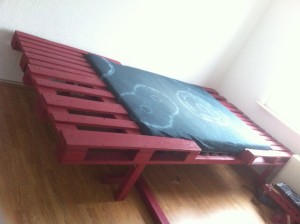 After mounting the first pallet element, repeat with elements 2-4. Then we are almost done: put in the slat fittings, mount the slats, and throw your mattrerss on top. If you use other slat techniques – e.g. rolled slats as i did in the single pallet bed, its quite the same procedure. Now move your bed to its final position and fix it firmly to the wall with brackets and fixings.
Annotations to the lowered bed variant: i still have the very same storage space height underneath (the drawer is unmodified), the whole bed itself is a bit lower now, regarding the mattress surface. Its also about 3cm less wide. All in all, no great changes, but some nice details and alltogehter, a nicer variant in my eyes. I really like the more levelled matress and pallet surfaces. .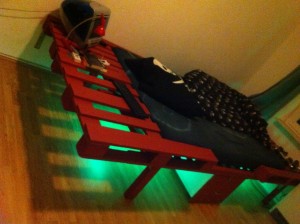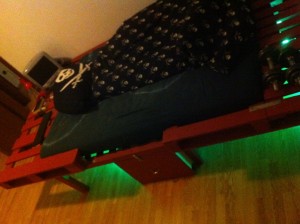 Final details: the green neon lights are again mounted below for nice illumination effect, and a gutted, revamped and linux-converted iMac is now added for the evening movie session. Everything looks nice, is comfortable and highly usable.