Deutsch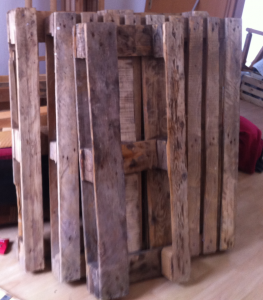 Unprocessed pallets are generally not suitable for living areas. A new, unused pallet is a fine thing, but even those are normally not directly useable – splinters and dust are becoming rather unpleasant fast. A "usual" pallet tends to be used ans is therefore often dirty, dusty, scratched etc. An old pallet may look nice, but has become scruffy, has brittle boards, is wet, greyed out or even moldy. Pallets having suffered some wind, weather and rough treatment should be avoided, often being broken, filthy or moldy, they're not worth the work to get them dry, clean and brite (if its even possible). Even grinding the pallet throughout does not help anymore when everything underlying is dirt and old, crumbly wood. Moreover, one just can't get every cracks, joints, grinded areas and nooks clean and accordingly no one knows, where something rotten still remains. On the other hand: all pallets seen above just came out fine. As long as they are dry and stable, you can usually work with them.
Good preserved pallets should accordingly get
• cleaned
• grinded, then
• painted or
• glazed.
Poorly preserved pallets shouldn't be collected for processing at all.
If you already know that parts of the pallet are to be removed – e.g. the central beam, when you build a single bed out of two pallets – then remove them before you do the main cleansing and grinding. Saves work, makes areas better reachable. All superfluous stuff: saw it away 🙂
Clean your pallets
Those who have access to a high pressure cleaner are well served. Otherwise just use a garden hose or watering can plus an ordinary scrubbing brush. The result doesn't need to be perfectly clean and sterile (we'll grind the surfaces), but while on pallets everything from dust, earth, cement and anything can be found (well, again: pallets spoiled with unknown chemical/oily stuff should be avoided at all cost), the coarse stuff should be off. Then let dry. If you have caught a nice clean and pallet, some dry brushing maybe does the job already.
Grind your pallets
Important before grinding: check out whats protruding the wood. Large splinters, nails, nail heads, screws etc. mess up your sandpaper. What can't be pulled out can be cut off via cut-off saw/angle grinder.
Important when grinding: get smooth surfaces and at least slightly rounded edges. Apple doesn't patent those, and sharp edges give bruises and splinters, sometimes even when painted.
At least every visible/touchable surface of the becoming piece of furniture should be grinded. Larger cracks and bruises in the wood can be softened via cut-off saw first, then polished. Between joints and gaps and in the angles the areas are hard to reach. Here an angle grinder comes in handy, some brush tools for a normal grinder or the power drill also do the job, i have to admit i sometimes just do the easily reachable stuff with the grinder and have the slits and angles just painted later on.
Painting pallets
My paint of choise is simple interior wall paint. White, or mixed/coloured as you wish. No varnish coating and no latex paint, so the wood still can breathe. The opacity is usually OK after painting twice, even with cheap white interior paint, as long as the pallets were cleaned and prepared well.
A small paint roll is fine for larger areas, a brush for the nooks and angles. At least the first coating should be done before the actual furniture is produced, because many corners are harder to reach after assembly. After completion you will have to fix smaller bruises, missing color, fingerprints no matter how you try to avoid it. In advance one should also decide whether you want to paint over fittings, brackets, screws and other metal materials or keeping those "nature" metallic. According to this you should choose the materials – brass or other metals for screws and fittings, for example. Otherwise there is little to consider at this point.
Glazing pallets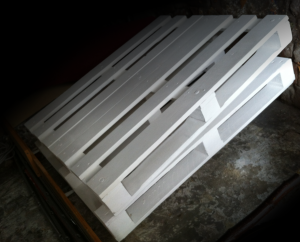 On other occations i had very good and nice looking results with linseed oil/beeswax glaze (oil/wax-finish). Regarding pallets I'm a bit doubtful because a) pallet wood can absorb a lot of oil/wax, your wood is either dry or oily/smelly. b) pallet wood often does not look as beautiful as "meant-to" furniture wood. On the other hand a well processed, maybe even branded new pallet *can* look great, especially if you like the "pallet look" (what you obviously seem to do 😉 )
Sometimes its even amazing how really beautiful wooden structures can even be found in the "cheap" pallet beams. Sometimes you're lucky, sometimes its hust some of the beams and planks whichj come out great, while others of the same pallet just look dull. Its up to you.
Alternatively to either full coatings or oil/wax you can use any wood glaze as long as its suitable for living rooms. Transparent colored glazes are of course fine, too – maybe they're the compromise between effect and "natural" look. With *all* transparent finishing, one should consider that pallets are often built from different wood types (from different trees up to different kinds of processing, e.g. beams and planks together with pressboards). Colour contrasts between wood types tend to become stronger behind transparent finishings. This, too can look sometimes bad, sometimes great.
However you decide, when you're finished, you have the raw material ready for furniture creation.