Deutsch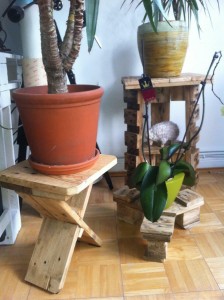 Preliminary notice: i wouldn't recommend those projects as standalone. Not because the outcomes aren't pretty, but effort/result may be quesitionable then. My main reasons for building these were
I wanted to experiment with Tripods and oblique elements and
i had a lot of leftovers from the kitchen cabinet.
Didn't want to throw this stuff all away, so i tried some flower stands, one of them useable as a small side table, too.
It all started with the idea to make a tripod, because we have a stool permanently occupied by a palm tree, which we liked to use otherwise. One very faded pallet of quite indefinable kind was also left over, also were a lot more remains of the only partially used euro pallets from the kitchen cabinet. Idea: use the three "base elements" as legs of the tripod, just to have this "pallet-like" structure. Furthermore: cutting the upper parts to unify obliquely at the top that they fit together and can be fixed this way. Came out to be a bad idea, but i had some learnings.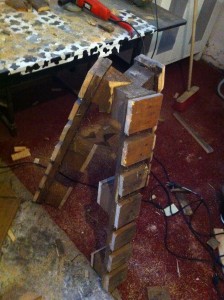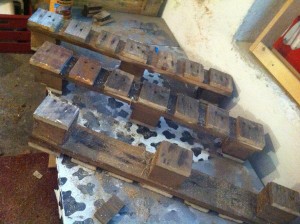 Idea
Oh well. I saw some pallet furniture projects looking terrible at the beginning and even in the middle of assembly, coming out fine in the end, so hey, relax. Nevertheless, my significant other considered the draft as too high and otherwise kinda ugly. I disliked the chunky "spacer bits" and did generally not like it, so I thought i should cut them down a bit, it won't be an error. And who knows, maybe it inspires.
Low tripod: small pallet plant stand
It did. Cutted off tghe footer parts halfway between end and middle spacer and suddenly i had three pieces of pallet cuterly badly demanding to become a small tripod. They just needed some cutting into form.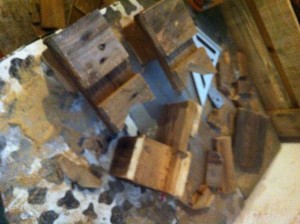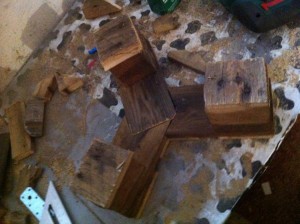 Looks OK already. Grinding and screw from the bottom with fittings.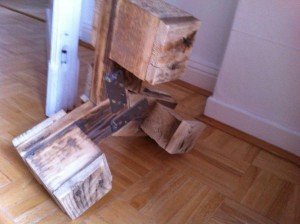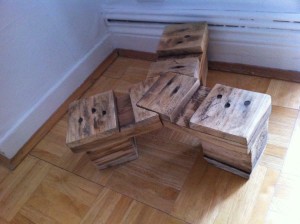 The principle works, its a bit of bricolage and I suspect that it won't work stable in larger structures, but in this size, I found it quite charming.
Pallet plant stand, tripod, shell, second attempt
But what now about the rest? OK, forget the thing with the "crooked tripod legs", take some pallet boards, fit them as a square plate to screw onto the tripod, grind everything and place it onto its legs.
Now the central "spacers" became interesting – until now, they were a bit of an annoyance I just kept for the "pallet style".
…hmmm…. An intermediate floor! Cut boards to size, grind and fix them!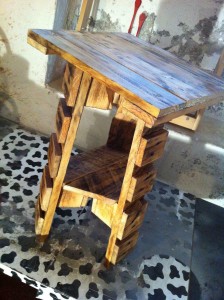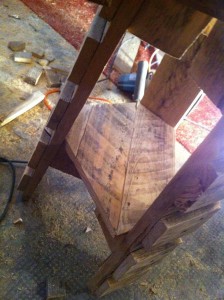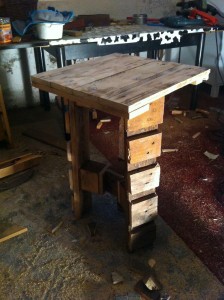 Suddenly everything becomes stable and looks as if i had a plan on from the start. With this result I was also quite pleased.
Bits and pieces yet – the inevitable felt pad bottom-glides, paint/varnish (I used up my residual water/wax stain from the kitchen cabinet up to the last drip) and the result also does its job as a sofa side table.
Medium sized stool: flower stand from residual pallet boards, medieval version
Now i still had a number of pallet board leftovers, and a small and large flower stand makes a medium sized one somehow mandatory. "Base elements" were out, so we only have standard boards. Means: you can also make this one from simple wood boards.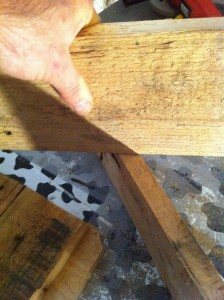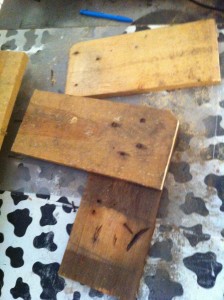 …I guess i had these medieval market plug-in deck chairs in the back of my head. But as a flower stand, the item didn't need to become this very sound and stable. Cut both boards straight halfway through, in a diagonal saw angle.
Both jigsaws I use can be adjusted the way shown here, i guess its kind of a standard. I think five degrees more or less don't matter, but be warned, i needed some stabilizing screrwing adfterwards and am not as happy with this one vompared to the other two flower stands in poinmts of stability.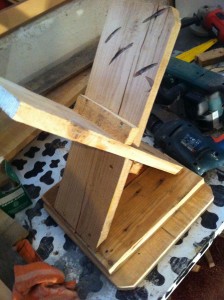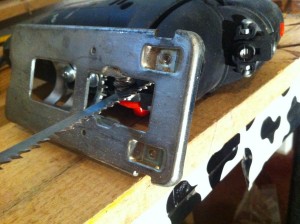 As you can see: i just used some leftovers pieces of wood, screwed directly through the edges, nothing wobbles.
TZhe whole stool would be stable enough for some flower pots without these, too, but hey, it's a small piece of furniture not to be dissected again, so have it stable.
As always: sanding before, painting/varnishing after final assembly.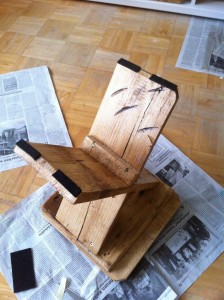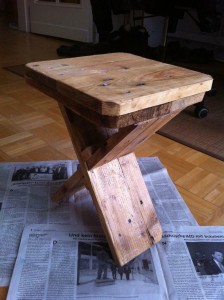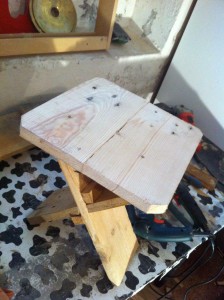 …oh well. What has three legs stands stable, what has four (or something square-formed as this board angle stuff here, must be clean straight, or it wobbles.
I must admit, after some afterwork i called it a day and said, good enough for me.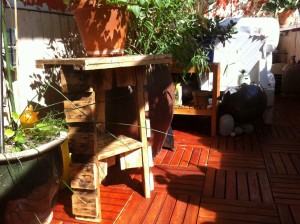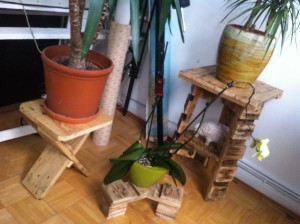 Conclusion
Once again, no clear costs/material information – you don't buy stuff extra for small projects like these, you realize them because you have the leftovers from the other projects. More the "do i really have to throw away all that stuff?" and then don't – build something instead 🙂