Deutsch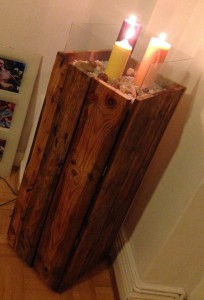 Sauna is a wonderful thing. It disrupts deep relaxation though, when you see there large beautiful wooden side cabinet lanterns and get the thought "Oh, can we build something like that?". Since we were in the sauna, i had no chance of taking a picture of my template/inspiration, but the result should be approximately 90 cm in height, about 30 × 30 cm wide/deep and resulting in an intermediate of lantern and side cabinet. Glass protecting the candles atop, oiled wood cabinet below and of course a place to store candles in inside.
We'll need (nearly) two pallets, mainly for the need of long (90cm+) boards. From one single pallet you don't get enough 90 cm boards for the side panels / doors, and moreover, the leftovers are to schort for the also needed 30 cm-parts for intermediate floors and framing. Particularly nasty: the "standard blends" that you get when sawing at the spacers, are always about 22-26cm in length, whats really annoying if you noticing after cutting these – you get longer parts after dissecting the pallet parts completely. Learning curve.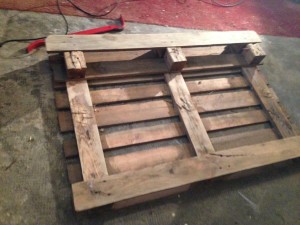 After this one, i'll definitely try another construction method. I think here I worked in a kinda wrong direction from the beginning. So check out the "aqlternate version, too. (Update: second version here!) The Plan for next time:
· Cut four pallet spacers with the jigsaw as glass holders, place glass plates in the cuts for solid/straight placement
· use these four pallet spacers as the form factor for the wind light, build the panels around these and
· not vice versa – because it is quite a matter of luck that everything fits reasonably.
Alike other projects: remove the mid-foot, remove nails (here more for safety reasons) right afterwards, here, we'll need the right and left sections, not the middle part later. The leftovers can be used later for patches in the side panels. Remaining: two pallet parts off with one pallet foot each. The footboards later serve as supports for the shelves. Width is just over 30 cm – relevant here the inner width, because I want to place four glass plates. The cheap solution are frameless clip photo frames: Standard DIN A 3, 29.7 to 42 cm. We have a little gap on the edge, but we also know that pallets are not an exact science.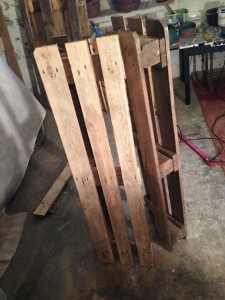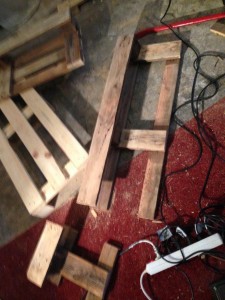 The tasks now:
· Shorten board to 90 cm.
· remove the footer board
· remove the middle board, since we want the boards being completely closed/next to each other. INsert the removed board without spacing, measure the width of the gap, cut an additional board of appropriate width, fix it.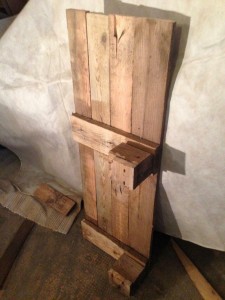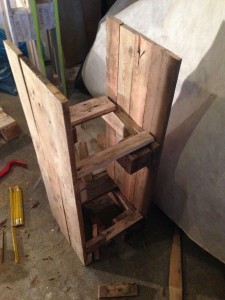 In which order? I've been shortening beforehand, removed the boards afterwards. A bit less leveraging.
Repeat the same process for the second side wall. Thats about as far you can get with one pallet, and if you have some 30cm-pieces, you can start fixing the pieces together now. Alternatively, start dissecting the second pallet or use leftovers – i should have enough, one would think, but i built too much flower stands lately.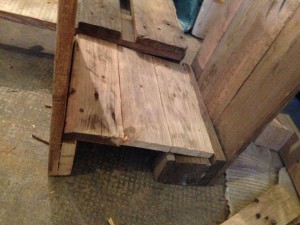 So far so good. As always: remember to grind/polish in maximum decomposition state.
"Shelves". Here, I believe that I overplayed the "will fit somehow"-principle. I need a 30 × 30 floor inside, so I took some 30cm-boards, fixed them from underneath to each other, and after noticing the three pieces add up to only 28cm, i cutted down the sidebar on the one side down, using the other one as fill-uüp for another 1,5 cm and go for it. quite the same issues above: everything became slightly crooked and I was very glad when after all sides were fixed, i managed to get the "overall stability" and also straighten things again (mostly). Anyway, i should not rely on this "will get straight somehow" in the future, its simply risky and you just don't know beforehands.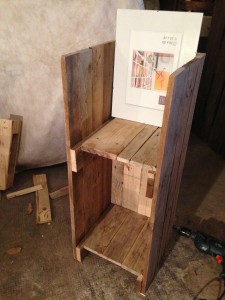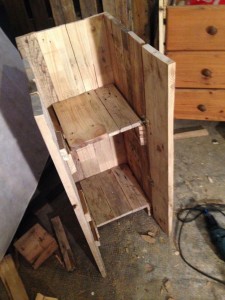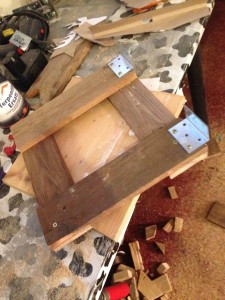 One can do better and more precise, i have to admit. Yet, i leaerned a lot for some projects to come 🙂 See above, learning curve: the next time i'll do it the other way round; from an exactly built internal glass plate stand to the outside.
At this point I started using another pallet: i needed more of the long (90cm) panels. Generally, it was a bit of patchwork at this point, I wanted a nice front door with a bit more "rough" front panels, but then I had only some more 90cm-panels from some cheap dispoable pallet i used for the back panels. They don't look as good, but they won't be looked at doo often.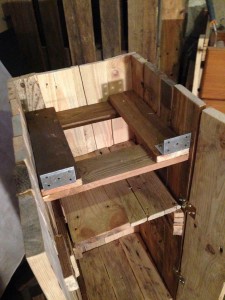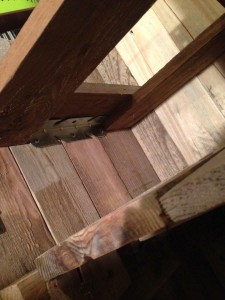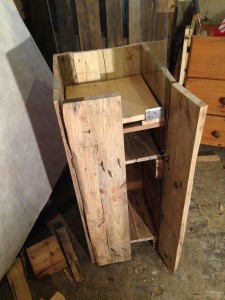 Now, varnishing. Once again quite an "Oops" when you see the change in wood coloring after the oil finish. Yep, my first pure linseed oil treatment. I got this tip at a pallet construction workshop recently (story follows). Pure natural product, easy to process, the grain looks great and for indoor use its a nobrainer. For outdoor, regular aftertreatment would be required, for the oil finish isn't throughoutly weather resistant. Only drawback: it has a distict smell, which one should like or, at least, tolerate. It vanishes over time, but not completely. But … whoa, these are colours coming out of simple pallet wood, treated with colorless linseed oil.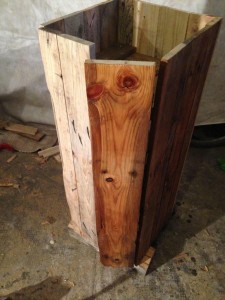 The last picture shows the A3 glass panes for which I simply used the glass from EUR 4.50-cheap picture frames from the hardware store.
To make the long story short: placing the finished sideboard in place, i slipped a bit and crashed three of the four glass panels.
Subsequently, the store had run out of A3 sized picture frames and I had to switch to A4 landscape format. Nice, but not as intended.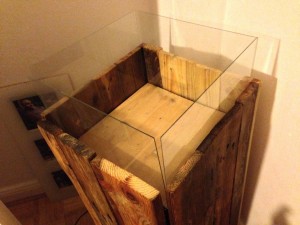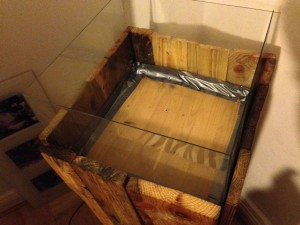 The Gaffa needs not to fix/hold anything, its just keeping the marble granulate from falling into crevices and into the cupboard interior. The glass part becomes a bit "short" for my taste, being covered by wood for quite some centimeters. Again, I plan the second attempt with sawed slots in pallet spacers (with branding!).
Now, crushed marble granulate. Cheap in the gardening section of the hardware store. And the final details, then it looks like this: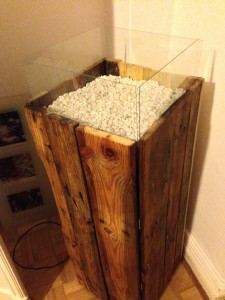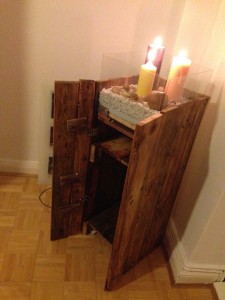 Again a case of "Would have made it completely different after making it", but anyway: I like it, even if one – as often already – wouldn't have expected it while some phases of the construction. Again: check out the second attempt.