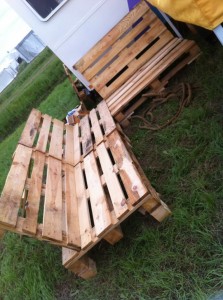 Deutsch

The "Observe Hack Make 2013", shortened OHM2013 was this year's Hacker camp in the Netherlands. I was there mostly because of internet- and socio-political reasons and issues and because of my general interest in fine people doing cool stuff with all kinds of electrical/electronical/other equipment, but as it happens, i also observed a quite pretty and very comfortable outdoor couch made of euro pallets there.
Raw material: quite a lot, especially for camping. Six pallets, three of them completely "gutted", ie, only the surface elements remain, footboards completely removed. The other three with removed middle footboards. I was told this was due to better piling.
At OHM, the hackers tend to make life as comfortable as possible, but the constructors here were the owners of a small mobile shop for all kinds of camp accessories. With this sofa for chillout and relaxing. They had also a pretty iconic bus, and they needed it not only for the offered stuff but also for the somehow weighty furniture. To make the long story short: this sofa is suboptimal for a quick and spontaneous camping session at the weekend.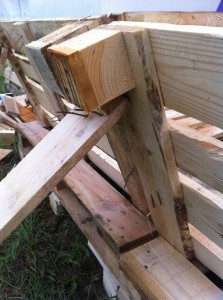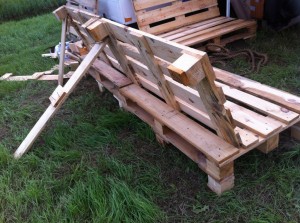 The removed pallet footboards are used for easy, fast support of the backrest, flexible useable at uneven terrain. Here its good to see in detail: the footboards were quite hastily loosened with the crowbar (hehe) and then re-used. I would definitely cut off the nails here.
Maybe its on purpose: hanging the laundry on the nails, or having better possibilities to clamp the support boards under the backrests. The kids on OHM2013 should getz along with dangers like those, they also cut vegetables at the childcare place with the laser cutter. Nevertheless, i'd prefer it without the nails, just because of the risk of injury during loading and unloading of the sofa.
Again, the view from the other side. The odds and ends of the pallets can be used as needed as dunnage, when the ground is uneven.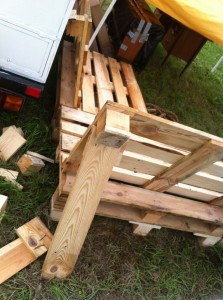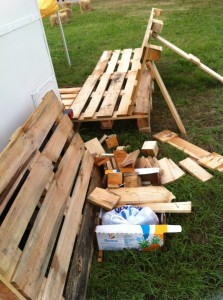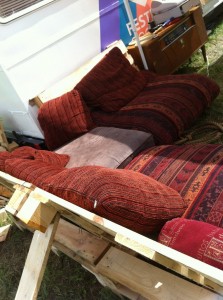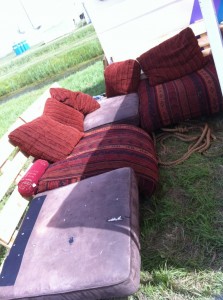 On the last images: the completed outdoor camping sofa made of pallets, with plenty of pillows. Advantages: well placed, it stands solid, even on uneven ground. You can seat and move yourself as convenient as you wich, nothing jiggles.
And it is as comfortable as it looks, in this particular case also certainly stimulating the shop's business as well as customer interaction and conversation .
Disadvantage: if it gets wet/damp or starts raining, you need to throw the cushions into the bus or at least pull something waterproof over them. But we had hot summer weather and after a short shower it was quickly warm and cuddly again.
Finally, no direct pallet relation here, but it just looked beautiful: OHM2013 at night. Ans a bit more outdoor/camping related: illuminated flower pots are almost as cool as pallet sofas, and significantly easier to transport.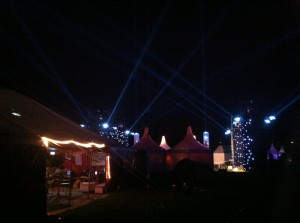 Some more Impressions from OHM2013? As mentioned, nearby I blogged some more articles on OHM2013 with some more visual impressions of a really cool camp.